KENT GEOLOGISTS' GROUP

Events and Field Meetings
Field Meetings Secretary - Lawrie Cowliff Fieldmeetings@kgg.org.uk Mobile 07515 824522

Chairperson - Anne Padfield Chair@kgg.org.uk Mobile 07970 211313

Members wishing to attend a field meeting, (or who have to cancel); are asked to inform either the Field Meetings Secretary or the Chairman at least three weeks in advance, as it may be necessary to alter arrangements.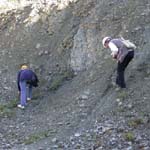 Longer notice will be required for weekend Field Meetings so that accommodation can be arranged. Details will be supplied on the booking form, or as soon as it becomes available.

A leader will be appointed for each field trip to ensure that the group complies with laws, bye-laws, health and safety requirements, codes of conduct, and to ensure that the group is adequately equipped to handle emergencies.
Members will be asked to provide contact information and any special medical condition of which the Leader should be aware. Members should come with appropriate clothing and equipment for the envisaged Field Trip and must pay attention to safety instructions given by the Leader. If in doubt, ASK!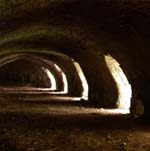 Children are welcome on most of the Field Meetings but must be accompanied by an adult on all trips and workshops. Members should note that some events may be more suitable than others for younger members. The main exclusion is likely to be visits to a quarry where the quarry insurance may exclude persons younger than a specified age. Please check with the Field Meetings Secretary, or the Chairman, the specific restrictions for any field trip.
Full details will be available a few weeks before the start of each trip.
Members are reminded that, even if they have their own transport, it may be convenient to car-share. Not only does this save fuel if the site is some distance away but parking may be restricted at many sites.
The Field Meetings Secretary, or the Chairman, will be happy to discuss and suggest transport arrangements.
Suggestions for future field meetings should be submitted to the Field Meetings Secretary - Fieldmeetings@kgg.org.uk