KENT GEOLOGISTS' GROUP

KGG Indoor Meetings
Indoor Meetings are held on the third Tuesday of each month in the United Reformed Church hall, Maidstone. Meetings start at 7.00pm and normally last about two hours. The December meeting may be held on the second Tuesday if the third Tuesday falls too close to Christmas. The Annual General Meeting (AGM) is held in March.

*** important information ***

From October 2019 please use the back entrance through a passageway opposite the O2 shop in Fremlin's Walk Mall.


Venue:
United Reformed Church Hall,
67, Week Street,
Maidstone,
Kent,
ME14 1QU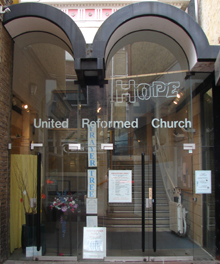 NOTE:

We now meet in the smaller of the two halls for which the access is from Fremlin's Walk, opposite the O2 shop, NOT Week Street
There is an admission charge of £1 per meeting (£3 per meeting for non-members).
Non-members and guests are always welcome and are admitted free of charge for one meeting. Thereafter they will be charged the appropriate entrance fee.
Members are encouraged to bring to Indoor Meetings any material that they think may be interesting to other members. The material does not have to be related to the month's talk. It can be recent finds, specimens for identification, books, maps,photographs, or even items of general interest.
Details of forthcoming Field Meetings are announced at Indoor Meetings.
After the talk members usually gather for general discussion. Tea and coffee are available at a cost of 20p.
Suggestions for future indoor meetings should be submitted to the Indoor Meetings Secretary.