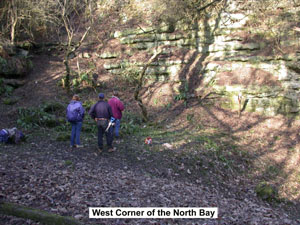 Loose Quarry, Quarry Wood was nominated in 2004 as one of nineteen proposed Regionally Important Geological Sites (RIGS) in Kent.
On Sunday 23rd January 2005, a group of about sixteen KGG Members and Kent RIGS supporters gathered in the quarry, to remove scrub growth that was obscuring the view of the rock faces.
The stratigraphy of Loose Quarry is Hythe Formation, Lower Cretaceous. The quarry is a fine example of classical Kentish "Ragstone and Hassock" lithology. It was worked for Kentish ragstone until the 1940s and provided the ragstone to build Loose church and to face the Loose viaduct, designed by Thomas Telford in 1830.